Global cross-border payments have become increasingly crucial for facilitating global trade and economic development due to the growth of international trade, digital commerce, and remittances sent by migrant workers in billions of dollars each year. The seamless transfer of money or value across borders enables businesses and individuals to engage in transactions, opening up opportunities for international commerce.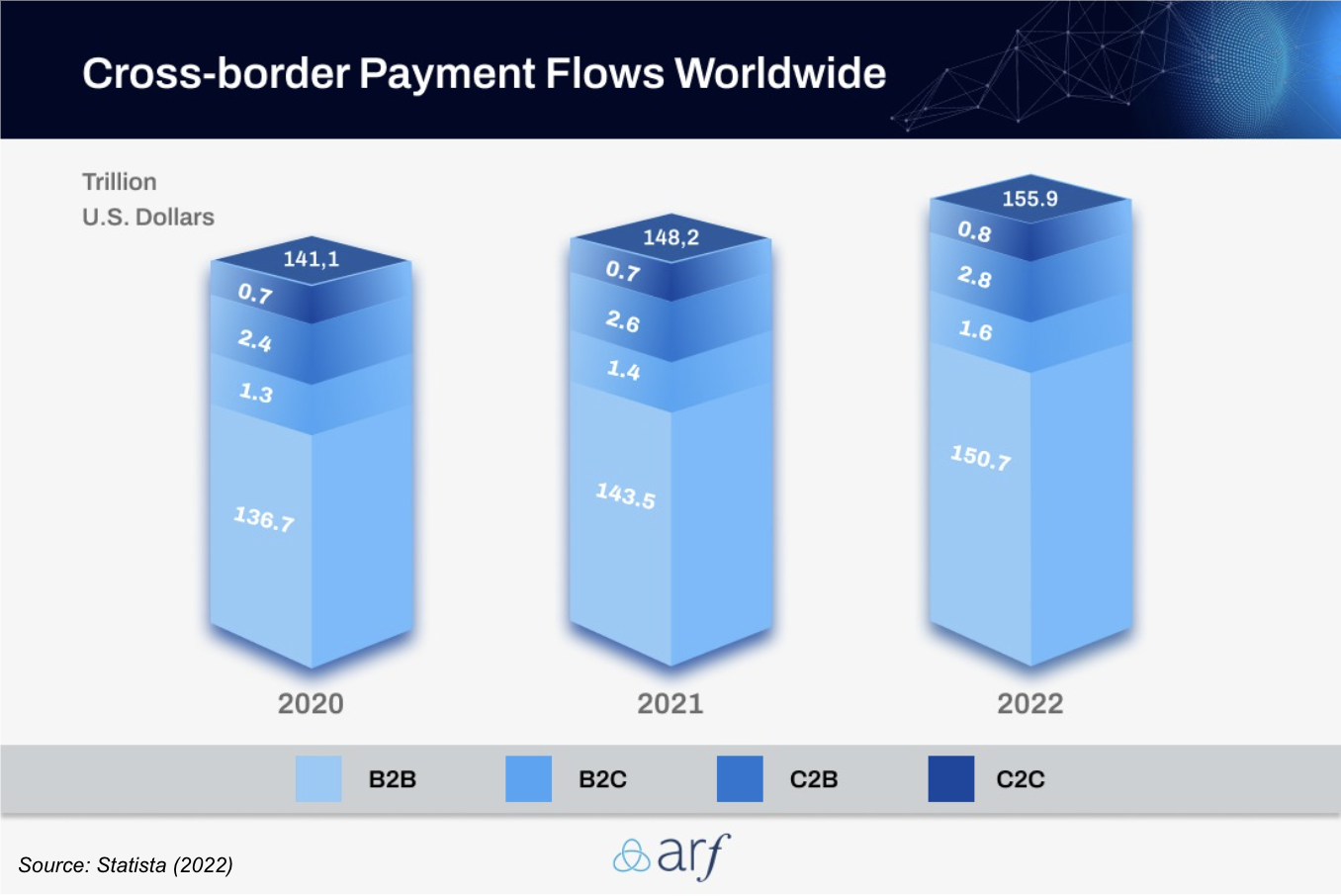 Current Landscape of Cross-Border Payments
As previously mentioned, the significant expansion of cross-border payments in recent years owes to a number of factors such as international trade and digital commerce—and projections indicate that this expansion is only set to increase in upcoming years.
This market is projected to reach the size of $290.2 trillion by 2030, exhibiting a compound annual growth rate (CAGR) of 7.5% from 2020 to 2030. Several key factors contribute to this anticipated growth, including the widespread adoption of digital payment methods, the surge in cross-border transactions, and the increasing demand for faster and more secure payment processing solutions.
To ensure sustained global economic prosperity, development, and financial inclusivity, it is crucial for all stakeholders involved, particularly B2B payment players, to prioritize the enhancement of transparency, security, and speed in cross-border transactions. By addressing these aspects, the industry can cater to the evolving needs of businesses and individuals engaged in cross-border trade, fostering greater efficiency and reliability in international payments.
Types of Cross-Border Payment Transactions
Business-to-Business (B2B)
B2B cross-border payments are vital for facilitating trade between businesses in different countries. The year 2022 witnessed a remarkable milestone as B2B transactions surpassed $150 trillion, accounting for more than 96% of the overall cross-border payment volume. Thus, B2B payments play a fundamental role in the health and development of the world economy and the overall payments ecosystem.
The B2B transactions displayed a consistent upward trend, witnessing a gradual increase of $14 trillion with a growth rate of 10%, from $137 trillion in 2020 to $151 trillion in 2022. However, challenges such as high transaction fees, currency exchange rates, and compliance with regulations and tax laws must be addressed to streamline B2B payments and improve efficiency.
Business-to-Consumer (B2C)
B2C cross-border payments enable consumers to purchase goods and services globally and support businesses' growth. They provide a convenient and secure way for consumers to make purchases, contributing to economic activity and expanding business offerings. The rise of e-commerce and the gig economy have significantly elevated the importance of B2C cross-border payments. The B2C segment has increased by 14%, from 1.4 trillion in 2021 to 1.6 trillion in 2022. Overcoming challenges related to currency exchange rates, security, and convenience is crucial to ensure smooth and reliable B2C cross-border payments.
Consumer-to-Business (C2B)
C2B cross-border payments have gained prominence with the growth of freelancing and independent contracting. C2B transactions experienced significant growth from 2.4 trillion to 2.8 trillion over the last two years. The global freelancing market is expected to reach $455 billion in 2023. Ensuring security, compliance, and convenience in C2B cross-border payments is vital to support the seamless transfer of funds from clients in different countries to individuals providing services.
Consumer-to-Consumer (C2C)
C2C cross-border payments play a crucial role in enabling individuals to send money to family and friends in different countries. C2C transactions saw a modest increase of $100 billion, remaining relatively stable at $700 billion in both 2020 and 2021, and reaching $800 billion in 2022. The global remittance market is projected to reach $842 billion in 2023. Addressing challenges related to currency exchange rates, security, and convenience is essential to facilitate timely and affordable C2C cross-border payments.
Collaboration is key to overcoming challenges in cross-border payments
Cross-border payment flows are an integral part of the global economy, enabling seamless transactions between individuals, businesses, and financial institutions. To overcome the challenges associated with cross-border payments, collaboration between financial institutions, regulatory authorities, and technology providers is essential. It involves the development of efficient payment solutions, the promotion of standardization and harmonization of payment methods and security protocols, and improved compliance with regulations and tax laws. By collectively addressing these challenges, cross-border payments can continue to support global trade, economic growth, and financial inclusivity.
---