Remittances have always been a major indicator of a country's economic strength. With the ability to show the connections between citizens and their compatriots, this metric provides a great look into the health of nations.
When people travel abroad - whether to live or just stay temporarily - they eventually need to send money home. They send money to their families, their business partners, and more. All of this money sent by citizens in the diaspora back to their home country is classified as remittances.
Determining the exact size of remittance flows into a country can be challenging because some remittances take place via unofficial channels. For instance, cryptocurrencies and stablecoins have become popular methods for people looking to transfer money across borders due to their quick and low-cost operating model. However, because the cryptocurrency space is largely unregulated, many data records and statistics don't cover the volume of cross-border remittances that these assets generate or process.
Nevertheless, several data sets easily point to the volume of remittances today.
The World Bank recently reported that global remittances surged by 5% in 2022 to hit $626 billion. Despite the massive economic headwinds faced by individuals and corporations around the world, remittances are a viable and resilient metric that can tell a lot.
In June 2022, the International Fund for Agricultural Development (IFAD) reported that the volume of global remittances is poised to hit $5.4 trillion by 2030. The agency also reported that remittances - especially to low- and middle-income countries - grew by 8.6% in 2021 alone.
As for Statista, the data source revealed that digital remittances worldwide alone clocked $117 billion in 2022 - a number that is expected to hit $171 billion by 2027 and cross the $200 billion mark by the next decade.
How Remittances Impact Economies
You might be wondering why many economic analysts and sources focus a lot on remittances when measuring the health of a country. Remittances continue to matter more than ever, especially in low - and middle-income countries. Here are a few reasons why this metric continues to matter:
As far back as 2019, the United Nations reported that one billion people worldwide - that's about one in seven people across the world - are involved in remittances. Hundreds of millions of migrants send money back home, while even more people benefit from these cash flows.
Even with the coronavirus and the heightened level of political instability witnessed over the past few years, remittance flows have continued to grow. As the data above shows, the world is seeing hundreds of billions of dollars in remittances, especially to low - and middle-income countries.
On average, migrant workers send between $200 and $300 home every two months. This money can make up for about 60% of household income, representing a massive financial lifeline for millions of families worldwide.
Remittance flows can be processed even in the toughest of times. This is possible thanks to factors such as the adoption of digital technologies and more. From mobile transfers to payment processors, cryptocurrencies, and more, the possibilities are endless. And for many, the true test of any money transfer method tends to be its effectiveness in handling remittances of a high volume. Between 2020 and 2021, the amount of money sent via mobile transfers grew by a staggering 65%, from $12.7 billion to $16 billion.
Over half of all remittances are sent to households in rural areas, where an estimated 75% of the world's poor and food-insecure people inhabit. For countries looking to alleviate these conditions, understanding how much is being sent to these people is a great way to start. Many rural households rely on remittance flows to bolster their livelihoods, thus optimizing their chances of survival.
Well over half of the remittances are used to cover the costs of things like food and medical expenses. Other major expense areas include accommodation and education - all of which are important to a nation's economy and poverty alleviation objectives.
Over 70 countries currently rely on remittance flows to cover at least 4% of their gross domestic product (GDP). These countries show that remittances can be a source of socio-economic growth and transformation.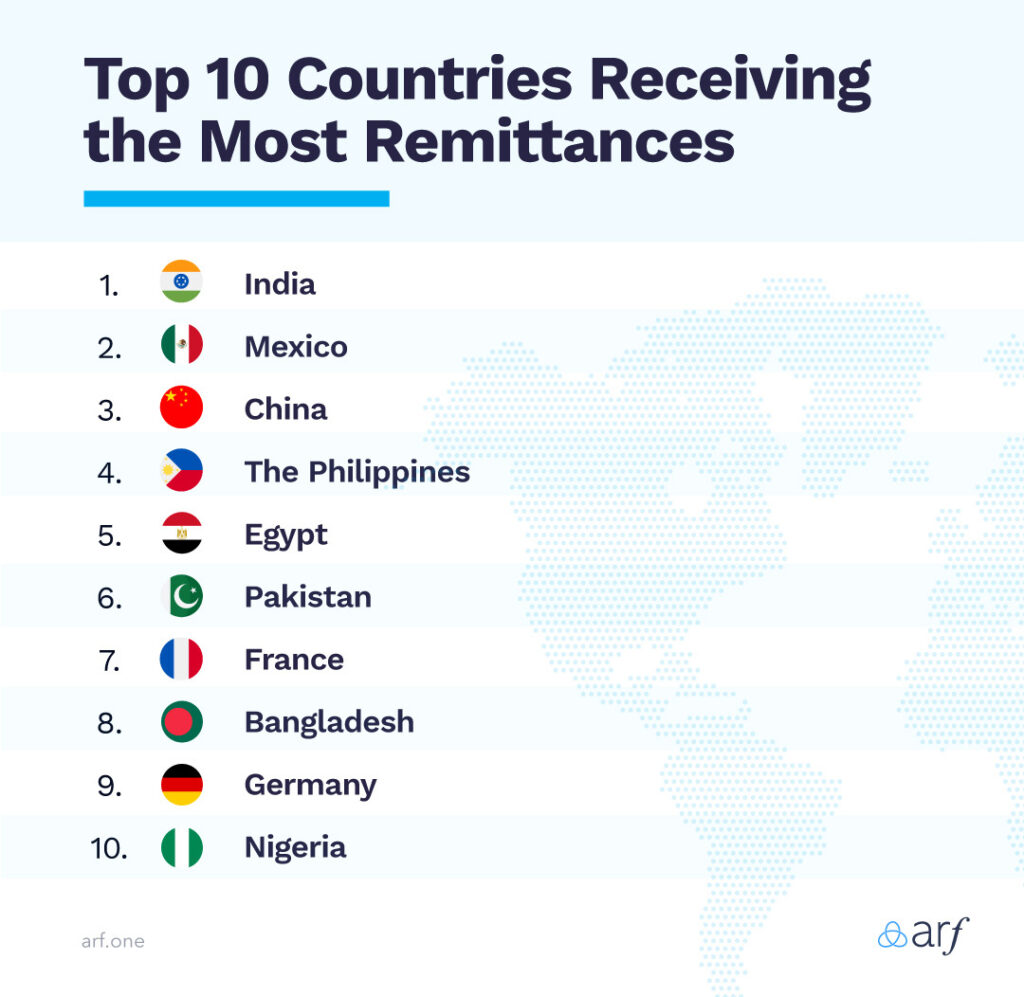 Which Countries Get The Most Remittances?
India
The world's largest democracy, India is a diverse and rapidly-expanding economy with a skilled workforce and a growing population of young people. Agriculture continues to be the biggest employer of labor in India, but the fastest-growing industry has so far been the service industry.
For Indians who live abroad, however, remittances make up a significant part of diaspora activity. In 2021, India got about $89.4 billion in remittances, making it the largest recipient in the world. The number also marked a significant 4.6% gain on remittance inflows in previous years - and the numbers are also expected to surge in the coming years.
Mexico
Home to one of the largest populations of Spanish speakers in the world, Mexico is a federal republic with one federal district and 31 states. It is also one of the largest economies in the world, and the biggest trade partner for the United States.
2021 was a huge year for remittances in Mexico, with the country recording a reported $54.1 billion in remittances. Interestingly, a significant portion of those funds came from the United States, with increased integration and migration helping bolster the rate of capital flows.
China
China is the world's most populous country with one of the largest populations of migrants in the world. And with most of its population being youth and tech-savvy, it's easy to see why remittance flows to China are surging - to the tune of $53 billion in 2021.
Despite being one of the oldest countries in the world, China has one of the planet's fastest-growing economies. And as the country continues to position itself as a focal point of the global economy, it's easy to see why remittances to this country will continue to grow.
Of course, it is worth noting that remittances only make up a small fraction of China's economy, because the country has the world's second-largest economy, valued at $17.3 trillion.
The Philippines
The Philippines has become the world's premier island nation. Made up of thousands of islands, the country has a massive diversity rate and has done a good job of becoming a hub for global digital and financial innovation.
Remittances - or cash flows from Overseas Filipino Workers (OFWs) - have helped improve this country's economy significantly. In 2021, Filipinos sent a record $36.7 billion back to the country - a 5.2% surge from the numbers recorded in 2020. Once again, most of these remittances originate from the United States.
Egypt
Egypt is home to one of the oldest and most renowned civilizations in Africa - and, indeed, the entire world. And with a hoard of historical settings and artifacts, it's no wonder that tourism is one of the country's biggest industries.
Despite the government's best efforts to grow the economy, Egyptians have faced an increasingly high level of poverty and unemployment in the past few years. This appears to be why remittances in the country are so crucial. The country recorded about $31.5 billion in remittances for 2021, with most of these money transfers arriving in local currency.
Pakistan
One of the emerging economies in the Middle East, Pakistan is the seventh most populous country in the world. It is also the youngest with the vast majority of citizens being under the age of 22. Pakistan is known for its booming textile industry, although a rocky political climate has also hampered its export-driven economy.
Still, Pakistanis in the diaspora have continued to prop up the country's economy. With remittances totaling about $31.2 billion, Pakistan continues to see a massive influx of foreign capital from citizens in the diaspora. Remittances from Gulf countries make up most of these inflows.
France
One of the few developed economies on this list, France is home to one of the biggest strongholds of cultural heritage in the world. Picturesque locations, great dining, art, and fine wine are only a few of the many attractions available in this country.
France received $26.3 billion in remittances in 2021. On the other hand, digital remittances received by the country totaled $3.7 billion in digital remittances in 2022, with that number expected to hit $5.17 billion in 2027.
Bangladesh
Even though it is known for its long and luscious beaches, Bangladesh is also a hub for the garment and textile industry. The country's agrarian culture is also very strong, with over half of its population occupied with agriculture.
Remittances to Bangladesh totaled an impressive 6.7% of the country's GDP in 2020. In 2021, remittances received by the country reached $22.2 billion. As the country continues to see a heavier reliance on remittances, this will be a metric that many economic indicators will keep an eye on.
Germany
Germany is the most populous and one of the most prosperous countries in the European Union. With a population of almost 85 million and a GDP of close to $4 trillion, the country's position in today's import-export economy has made it an integral player on the global economic landscape.
Remittance flows to Germany have come from both individuals and corporations, and they totaled about $20.4 billion in 2021. Most of these remittances come from fellow high-income countries, including the United States, Switzerland, and Luxembourg.
Nigeria
Africa's largest economy, it comes as no surprise that Nigeria ranks on this list. Despite having one of the 50 largest economies in the world, Nigeria has also been hit with significant economic woes, stemming primarily from political and social instability. This has led to a significant number of migrations in the country - and a rise in remittances, tallying $19.1 billion in 2021.
---
Sources
https://www.statista.com/statistics/962827/leading-remittance-receiving-countries/